Category Archives:
DIY
When we first moved into our KY home four years ago the landscape was in dire need of some love. The house had been rented for the last three years and there was a LOT of weed overgrowth in the very back borders, barren borders and weedy lawn… the homeowner did have a landscape company come in and trim, weed and mulch next to the house before listing it for sale though so that was something.
So this is what the backyard borders looked like then… they were all lined in ugly pink cement pavers… YUCK! In general I am not a fan of lined borders, there are exceptions to this though like for stacked stone or metal edging.
One of the first things we did was remove the overgrown shrubs from the corner of the house, expand the border slightly and plant 6 (5 ft. tall) Arborvitae's "Thuja" for privacy on our patio, you see the neighbors had 3 Great Dane's that were prone to staring and drooling… (I think he wants to eat my little Chewy)
We also built this planter box for vines etc. to add additional privacy while the shrubs were growing…
This is what that area looks like today! Very private and lush and as a bonus I can plant plants in the planter that I can't plant on the ground because of those rascally rabbits!
This is the view from the neighbor's side (taken in Feb.), the Arborvitae's are about 15 ft tall today!
By the way I listed the pavers on Craig's List for free and a guy came and pulled them up and hauled away all of them… man am I so glad that he did the work for me!
We got rid of the Euonymus, mainly because I hate them but also because the deer eat them which would bring them up to the patio to search out other plants as well. We relocated the Princess Spirea to the end of the border and planted lots of herbs, Lambs Ear, Bleeding Heart, Russian Sage and one of my favorite trees a River Birch.
We also extended the border and removed the "sandbox" (that square thing with all of the weeds in it) and we relocated the rock from the "firepit" (the round thing with all of the weeds in it) to the backside and shaded area of the property.
The border extension was just done 2 years ago so most of the plants in this area are only a year or two old, except for the Princess Spirea of course.
They're Butterfly bushes at the very tip along with Grey Owl Junipers in the background which helps disguise manhole cover.
We are very proud of what we accomplished in our garden in four years! We love seeing the plants grow and thrive especially as a lot of our plants were started from seed… So now we have to start all over in a new home, with a lot of empty borders… Hubby installed 16 yards of mulch all by himself last Saturday!
So glad I was not there to help, which sounds awful of me I know, but I also know what a job this was!
Our new borders will eventually be full of plants, the fuller they are the less mulch we will need because I'm sure I won't be let off the hook next time we need to mulch!
Thanks so much as always for stopping by…
Until next time!
Our home in Louisville, KY sits on 1.25 unfenced acres and I can tell you that there have been numerous times I wished it was fenced like my neighbor's with a 5 ft. tall fence. Now a 5 ft. tall fence is not meant to keep deer out, but the deer have yet to hop their fence to get at any of the "goodies" inside. So even though the fence will not stop the moles, voles or rabbits it does seem to deter the deer which seem to be a bane of my existence here! Now don't get me wrong I love to look at deer and I love seeing the babies coming through in the spring, but they annoy the sh*t out of the dogs who love to stalk the backyard and bark whine and cry to go get them…
Cute right? Yes, but these are in my yard, I'd much rather see them somewhere else…
Over the past four years here (we're in zone 6 by the way) I have found quite a few great plants that no critter seems to want to partake of… most of them are herbs, that's right just your basic garden herbs!
Mint in the background (kept in check, but you need to be aware that it can spread like wildfire) so maybe don't do as I do in this case… but I have plenty for my Mojitos all summer long!
I love my Chives, they are about 14″ tall and the purple blooms stay for weeks… I think people sometimes use the blooms in salads… I just look at them and every once in a while snip off some fresh chives for a recipe. They will go dormant and brown in the winter, but you just remove the dead and they come back beautifully in the Spring.
I also have a bunch of purple Salvia that I grew from seed and is really starting to take off this year… I think they smell like BAD body odor (or maybe cat urine) when you touch them but they have a very pretty flowing display… and I don't touch them unless I'm deadheading them.
One of my all time favorite plants (and super easy to propagate or grow from seed ) is Lamb's Ear. This particular variety is a Giant Lambs ear, which will clump more than the smaller variety of Lamb's Ear, I have a smaller variety in the front borders which really fills up the boarder and cuts down dramatically the need for mulch.
A new favorite of mine is Lemon Balm, it looks similar to mint, but it grows in clumps and as a bonus when the dogs walk through it they pick up a nice lemony scent! This will be a plant I will use over and over again in my landscape plan, below is all new Spring growth as it will get about 24″ or so tall.
I think the garden pests don't care for the aroma of the herbs as they do not touch my oregano, rosemary, chives, lavender, mint, catmint or lemon balm all of which come back year after year in our yard. These herbs can be an inexpensive alternative to other perennials and as a bonus you have fresh herbs for cooking or crafting with, I think it's a win-win to fill your borders up with as many herbs as possible! The critters also never touch my Lamb's Ear or Russian Sage, but the rabbit nibbles my Phlox down to a nub, he's such an ass! Sometimes "something" will nibble on my Bleeding Hearts as well, but I'm not sure who the culprit is yet…
I also want to put a plug in for one of my favorite vines of all time, The Chocolate vine… it has the prettiest foliage and tiny, delicate blooms in spring, this vine has always been a healthy grower for me.
We planted 2 vines in our patio planter last spring and while they were slow to take off they seem to be growing like crazy now… just in time for their new owners.
It truly is a joy for me to watch all of our plants grow and flourish in spite of the critters!
Thanks as always for stopping by…
Until next time!
PS My mom turned me onto this product which we both swear by for deterring deer, does nothing for rabbits, but the deer don't like it and it's cheap! I apply every few weeks or so, as bonus it's a natural fertilizer…
Pretty much without fail when we move into a "new" home we generally start with replacing lighting. I know that may seem strange as it would make most sense to start with paint, but for me sourcing the right lighting is one of the more difficult tasks. It would seem like it would be fairly simple as my taste runs more toward the traditional side (in general) but finding the right light at the right price just tends elude me (especially vanity lighting)!
Even before I walked into our new home in Virginia Beach I had started the search for new lighting, specifically dining room, family room and eat in kitchen lighting. I found this light at World Market. 
It looks perfectly suited for a causal coastal vibe and at $200 it wasn't going to break the bank. Plus I have plans to modify it by wrapping the metal rim in either sisal or leather lacing, basically making it look more upscale for very little money and effort! The other thing about this light I love is that it has 4 bulbs (40 watt each) which since I'm using LED lights I can use a higher wattage and add a dimmer to adjust brightness as necessary.
The other light I found that I'm totally excited about is for the family room. It's from Ballard Designs and at $400 it's not exactly cheap but I totally think that it is priced very nicely!
Unfortunately the light is backordered until July, but I plan on it setting the tone for the whole room. I've also decided that if for some strange reason we LOVE utilizing the fan/light combination that's currently in the family room I can use this in the dining room, bedroom or the foyer I think it's that versatile.
There were some other options I considered for the dining room, but I want to wait to get the bamboo light installed before I pull any triggers.
How cool is this one though? Very masculine I know, but I'm totally digging the feel of the leather and brass! It's by Savoy House and it'll cost about $600 depending on where you source it, but it's pretty bad ass looking and my Hubby totally loved it of course!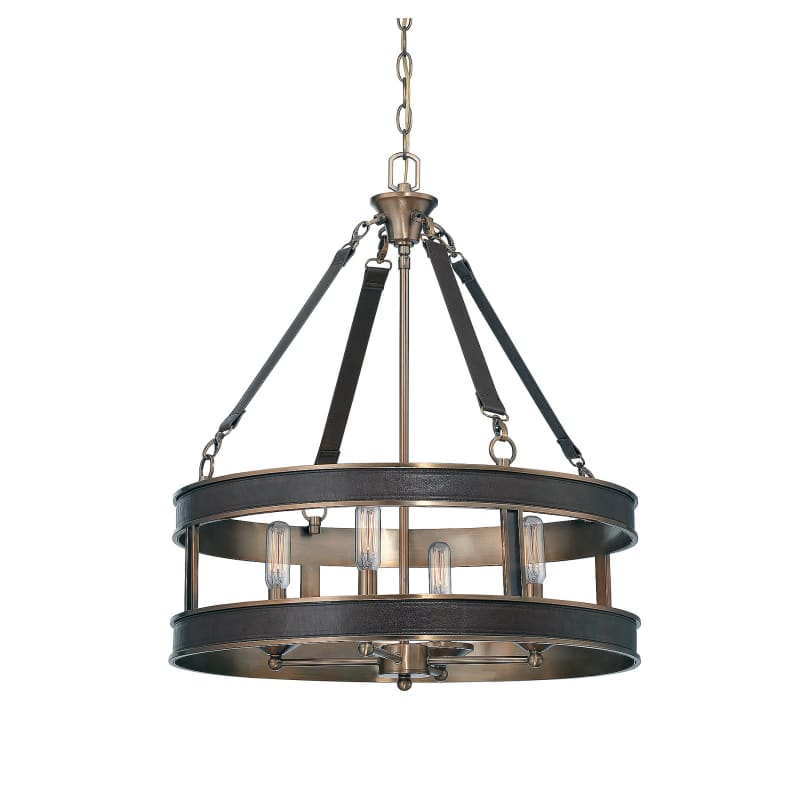 I also saw this bad boy at Lowe's and while I like style a lot it wouldn't jive with our dining room furniture and that furniture is not going anywhere…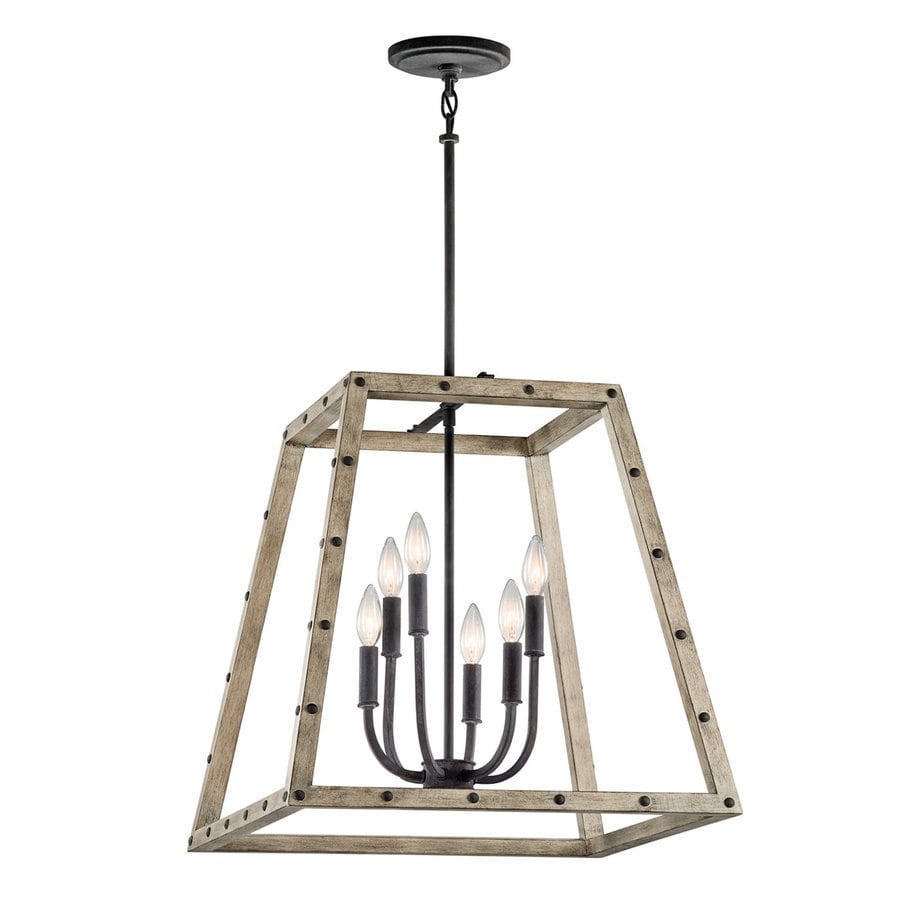 My hubby installed the beaded chandelier already and I'm thrilled with how it looks even if there's no table there yet…
We also installed these Lutron motion sensor lighting in the two master closets, it is just so convenient (or lazy) to be able to walk into the closet and not have to turn on the light. We set them to turn off after 1 minute of no movement or we can manually turn it off ourselves, which for some reason is no problem for me to turn them off but I do want them to come on automatically… go figure! Super easy to install by the way…
Another item we just "had to install" was this Lutron remote control dimmer for the master bedroom and media room. We love being able to remotely control the lights and we were used to it as we installed two of them in our KY home in the master and the media room as well. They are super easy to install as well, but if you have little kids (or maybe just irresponsible teens) you may want to find a place to store the remote so you always can find it, but I did find out that you can buy a new remote if the old one is "misplaced"…
So I have a crap ton of lights to replace, but it may be that I get to the painting before I buy more lights… we'll have to see as I am still living in Louisville until June 1st (last day of school) and Hubby is already living in the new home like a nomad without any permanent furniture, so I don't have a lot to do but pack and daydream about our new spaces!
While I was at the new house for Spring Break I needed a place to set my coffee etc. down while I was watching TV (this is how Hubby is living for 8 weeks!) so I found a cool antique store with lots of goodies and found this TINY table for $20! I just love it and I plan on using it in a bathroom after the "real" furniture arrives, but it is so dang cute I smile every time I see it! I mean it's SUPER tiny!
So I'm off to pack a few more boxes, I did a little calculation and determined that if I pack just 2 boxes a day I will be done by the time the movers come, I hope that is the case as I'm pretty much sticking to that number!
Thanks as always for stopping by…
Until next time…
PS Have you ever tried this Grapefruit Vodka? If not you might want to it's delicious, I enjoy it mixed with La Croix Grapefruit Sparkling Water… they have other flavors too if you're just not into grapefruit…
Renovating the master closet and converting it into a dressing room has been a true labor of love for us! This renovation was just part of the overall Master Bathroom renovation, but it had a few small items we still needed to complete in order to consider it 100% done! I'll take you through a quick photo before and after but if you're interested in seeing more of the renovation photos and details check out my links at the end of this post.
This was the view into the closet, there was a door off of the master bathroom which is why I consider it a closet before but a "dressing room" now. My side is the first left, hubby's side is behind mine with the most natural light (he has a tad issue with determining whether clothing is black or blue
)
This is the totally unusable dormer window area, with a separate light switch for what purpose I do not know.
This is my hubby's side of the closet, have I mentioned enough how I hate wire shelving!
Another shot of my side of the closet with the door that lead into the unconditioned storage space.
Original closet layout plan
Renovated closet plans
So this is our new view through the master bathroom into the new dressing room. When I was originally designing this space I was concerned about not having a door on the closet (not sure why now), so I did design the walls on either side of this hallway to be able to accommodate a future door if that was what we wanted. I can tell you with absolute certainty though I would never put a door here! I love all of the natural light that pours into the bathroom from the dressing room windows and the overall open feel of the whole design. By the way we installed a high quality exhaust fan in the bathroom that has allayed any fears about moisture I may have had.
My closed wardrobe area that I have setup for my "delicates" and jewelry. Clearly I have a ton of unused space, but I don't really have anything else to store. I love it though! The doors I painted to match the IKEA brown/black color of the cabinet.
My hanging area for dresses, skirts and long items. I love the solution we designed in order to hang the closet rod on the inclined ceiling.
My custom pull outs for shoes and additional storage for purses etc.
We used heavy duty metal closet rods from Home Depot for all of our hanging. They are very pretty and extremely strong!
My hubby made this simple hanging cabinet for my boots, but I also keep a few sweater items on top.
More hanging space here, with custom wood tops I stained and attached to the brackets.
Now for my hubbies side of the closet. Again using the heavy duty metal rods and custom cut and stained wood tops.
My husband built this small cabinet I designed to fit in this otherwise unused space.
A nice space to charge phones and decorate!
Oh how excited my husband was when he learned he had plenty of room leftover in this cabinet for new shoes!!
Still lots of empty shelf space!
We custom made these dividers for his sock drawer, love them!
An just because Chewy is so nosy and cute I thought I would share this photo with you too…
Our dogs really crack me up!
Anyway I hope you enjoyed my little tour of our completed dressing room! We are loving every square inch of it and are thrilled at how well our design has worked so well for us!
Thanks as always for stopping by and I hope that you all have a Merry Christmas, Happy Hanukkah and a wonderful New Year!!!
Until next time…
PS as promised other closet renovation posts:
If you follow me on Instagram you may have seen some of the updates we have completed on the Master Closet / Dressing Room. I'm not ready to show the final reveal as I am currently in the process of spray painting the Ikea Pax Wardrobe doors, but I should be done soon!
So we decided to add three Ikea PAX brown-black wardrobes to our closet rather than building a custom setup. We already have plenty of hanging space, but my hubby needed some additional drawers and shelves for things like shoes, socks, underwear and I wanted they're cool jewelry organizer.
We chose to buy one of the 14" deep cabinets for his shoes, but the 24" deep one for all of the organizers we wanted that aren't available in the more shallow cabinet. I love the insert and drawer options that are available for these wardrobes, but they are missing some options I'd love to see them add at some point. I thought I could find a simple drawer organizer that would work for us, but no one seemed to have just what I was looking for so I designed a simple, no fasten system for the drawer and we built it and painted it to match the cabinet.
This really easy and simple project that consist of: 1/2 birch plywood, 5mm Poplar plywood, some white birch veneer tape.
First we cut the 1/2" plywood to height and width and then I adhered (with an iron) the veneer tape to the top edge of the board. After the veneer had cooled we trimmed the veneer and sanded the edges. Then using our table saw we ran the boards through 3 times, moving the blade out a little each pass to cut about 1/4" notches on each board at the desired locations.
We then placed the boards in the front and back of the drawer and measured for the length of the dividers. We then cut the 5mm plywood to length and width and sanded all of the pieces with 220 grit paper.
I spray painted all of the pieces with Benjamin Moore Advance Satin black brown paint that I had custom matched to the Ikea black-brown color perfectly! I took one of the shelves from the wardrobe to my local Benjamin Moore Store and had them color match to it, it was a little bit of a process to get it just right, but they did a fabulous job! I had looked and looked online for a formula or a color someone else had found already, but there was nothing that truly matched it that I could find. I am a HUGE fan of Benjamin Moore paints and their stores, they seem to employ very knowledgeable "paint people" and if need be I can call ahead and have my paint mixed and ready for pickup when I get there… just all around great customer service! I use Bluegrass Paint & Decorating here in Louisville, but when I lived in Richmond I used Virginia Paint Company.
Here is a picture of the Ikea Black-Brown paint formula for those that may need it, created in Benjamin Moore Advance Satin paint Base 4.
The front and back slotted 1/2" plywood pieces are only held in place by the tension of the divider pieces which allows this system to be easily removed or changed around if necessary. Love me some organized drawers even if they're not "mine"!!!
Hope you are all enjoying some nice Fall weather and as always thanks so much for stopping by…
Until next time!
I'm so excited to be able to not only finally share our kitchen remodel with you, but to also just be D-O-N-E!! I I think that the progression from concept to completion went very smoothly with only a few tweaks (tile and range hood) in the overall original design. I'm also very sure that I will want my cabinets in any future home setup like this, with open cabinetry below closed cabinetry, it just works so well for all of us and no extra dusting required!
So here is where we started (that's the home inspector at the island), my hubby took photos of the house as he was inspecting it. What we have is a nice, open, good sized kitchen just not exactly what we wanted.
The first stage for us was replacing the can lights for pendant lights, new fridge, microwave, sink, faucet, dishwasher and updating and painting the island.
Stage two was the easiest and quickest, installing marble subway tile backsplash…
It remained like this for just over 2 years, but I always knew that painting the cabinets was next…
The third stage was to update and paint the butlers pantry, it was also my "test" for the kitchen cabinet paint color (Benjamin Moore White Dove).
Then FINALLY the last stage, raising the original cabinets to the ceiling, making new open cabinets to install below, adding decorative molding, installing more tile above stove and sink window, installing new range hood and adding a decorative cabinet above stove and fridge and painting all of the cabinets and installing new hardware… WHEW that was a mouthful and I'm pretty sure a run-on sentence!!
I hand painted (with a combination of foam roller and soft bristle brush) with Benjamin Moore's Advance paint line all of the cabinet boxes and trim, but I spray painted the doors in the garage. I always follow the same routine, clean the cabinets with Formula 409, fill imperfections, lightly sand, wipe down with tack cloth, spray prime, sand, clean, spray paint color and repeat as many times as necessary. I sprayed 4 coats on each door side, letting them sit for 24 in between each coat and a week before I flipped them from the back to the front (always paint the back first). The final finish looks great!
The molding I added is the same we added to the island and helps disguise where the 2 cabinets are connected.
So much easier to access glassware and everyday dishes now!
We love our new hood, it works so much better than the microwave vent and because it is mounted much higher than the microwave was it helps open that space up.
My one small decorated area…
The wall color in the kitchen is Benjamin Moore Chelsea Grey.
Some before and after comparisons for you…
Well that's it! No more phases left to do, whew!!!
Thanks so much for stopping by, I hope you enjoyed this walk-thru of our kitchen renovation!
Other kitchen renovation posts:
Kitchen Butlers Pantry Complete
So you may know we went through a kitchen cabinet overhaul where we raised the original cabinets to the ceiling and added an additional open cabinet to the bottom of the original cabinets…
This setup works extremely well for the way we want our kitchen to function! The everyday dishes and glasses are in the open shelving area where they are quickly and easily put away and retrieved. The original raised cabinets are now setup for basically anything that doesn't fall into the everyday category. However my 5'5" frame can only reach the first shelf in the old cabinets now so this is the main issue that was taken into consideration when I was re-organizing the shelves.
This most likely might sound a tad anal retentive, but I started with a list (because who doesn't love a good list) of the different categories of items I had to organize, for example…
wine glasses (why do I have so many… OMG I am such a lush

)

Casserole dishes

Storage containers

Everyday dishes

"Fancy" china

"Fancy" water glasses

Misc. drinking cups
Anyway, you get the point… I think I had about 15 line items that I needed to deal with and rather than start to randomly put the items away and then decide I needed to move them or that I forgot something I created a very crude cabinet diagram and worked on placement of the items by numbering each line item and then placing that number on the cabinet they were to go in. It took a little more upfront time, but when I went to put everything away the job went very smoothly.
Just some of our many, many wineglasses… also all of our china fit on the top 2 corner cabinet shelves, you know the shelves you always loose stuff in anyway!!!
I mean the cabinets almost look bare, maybe I need more ice cream bowls…
This entire area (top and bottom cabinets) is dedicated to drinks, coffee, soda stream, tea etc.
Our one display area in the kitchen, which I love and hopefully I won't have to clean too often…
And look we even have the new range hood installed!
I can't even tell you how much I love my new ceramic knife holder from Williams & Sonoma… it is super cool with its Kapoosh insert and I think it looks way better than the traditional wood knife block!
By the way remember the time I totally broke the glass stove top to pieces…
Well come to find out you can just replace the glass, which my hubby and I did as it is totally a DIY job. Yes, I would have LOVED to have purchased a new top, but finding one that fit the exact dimensions of the granite opening proved to be impossible very difficult. The Jenn-Air glass replacement top I bought online and it cost just a tad over $300, about 1/4 of what I would have had to spend to replace it.
I organized the cabinets based more on how often I would need to use the item more so then where I would use it. So for example all of my china and extra wine glasses went way up on the uppermost shelves. Where it would make sense for most people to have their casserole dishes near the oven (where ours were originally) I put ours in one of the base cabinets near the island because we use them quite frequently. I still have quite a few empty shelves, but everything is put away and I have only had to get the step stool out once in 3 weeks so I think the setup is working great so far!
As far as finishing the kitchen I just started spray painting the cabinet doors so once done the kitchen will be finished… whew hew!!! I took a few weeks off, some due to weather, but quite a bit due to procrastination on my part… but I'm getting it done now and if I never have to paint another set of kitchen cabinets I will consider myself a lucky girl!!
Thanks for stopping by!!!
Even though I only have one coat of White Dove on the cabinets (but not all of the trim) it's looking much closer to a finished project… however don't even ask about the door fronts as they have technically been ready for painting for weeks I've just been neglectful and reluctant to paint in 90% humidity…
We also got the tile grouted this weekend as well. Have I ever told you that I have tiling anxiety? No, I've never been formally diagnosed, but I'm pretty sure it's a real thing. You see tiling itself is not difficult at all, but you have to move pretty quick in order for the mastic and grout to not dry out and cause problems… SO I get anxious and pretty crazy about moving quick, quick, quick (like at a DEFCON 10) and my Super Awesome Hubby just wasn't born equipped with anything over say DEFCON 7, so if you can imagine he's moving at like a 4 and I'm at a full on 10! I'm so lucky he puts up with my crap sometimes I swear… but anyway on to the progress shots!
My favorite cabinet so far is the one over the refrigerator / oven area. At first I was not really thrilled about having to stage that area, but I have a plan and I'm super excited to get it finished!
And I don't regret for one minute adding the tile over the window here, I think it really finishes off the area nicely.
I still have to caulk the crown molding and fix some areas that aren't quite perfect before I can paint them. Also, the blue tape is marking areas I noticed after I painted that needed some additional repair so they have been fixed and re-primed and I will paint spot paint those areas when I paint the trim.
Also, a follow up on the cooktop I broke… we haven't replaced it yet, but I did get "lucky" and was able to buy a replacement glass top for it instead of having to replace the whole cooktop. I would have much rather replaced it, but finding one that fit the exact cutout dimensions proved nearly impossible.
The rest of the to-do list consist of painting the ceiling, installing the range hood, reinstalling the under cabinet lighting, a few more coats of paint and painting the doors… so I think we're on the downhill slope, right?!
Until next time…
Well today was the day that I was going to get shit done on the kitchen remodel! I had one last cabinet to prime, a few repairs and then sanding of all of the primed cabinets… it was going to be a big day! And truly all was going well (albeit messy and dirty and overall not fun) and I was moving along at a good clip and on track to finish what I had planned to finish until this happened…
(insert lots of bad, bad words here…)
I dropped my mouse sander on the glass cooktop and the top shattered big time! I was lucky that the glass didn't fly off of it, but I was extremely pissed to say the least. Now granted I hated this cooktop, it is 13 or so years old and it was hard to see the numbers beside the dial but it worked just fine and I wasn't yet ready to replace it. I mean it takes me a lot of time and research to find just what I want and also what will fit the cutout in the granite that already exists. So my search begins today and I need to find a replacement quick because I cannot use my cooktop in this condition, I guess I will be using the crockpot for a while…
On the plus side we really are at a good point with the kitchen cabinet updates.
All of the new cabinets are installed and everything is primed and ready for the first coat of paint! I'm so excited about the cabinet over the oven and refrigerator that I have already been mentally planning on how to stage that area.
As you can see we got the tile installed (but not yet grouted) over the stovetop, but we had a little scope creep and decided to tile over the window over the sink as well… it just looked awkward without tile there.
So I'm off to find the perfect/inexpensive/right size/quick ship stovetop, wish me luck… I have a feeling I'm going to need it!
Until next time…
I know that there are a bunch of cabinet painting posts out there where it only took a couple of days to paint the cabinets… well that is clearly not how fast my project is going. Now I will say that I knew going in to this project that it would take a lot of time, be messy, tedious and pretty much a pain in the ass, but if I wanted painted cabinets I was going to have to suck it up, put on my big girl panties and get started!
So you know I finished the butler's pantry a couple of month's ago… which I am so happy with!
Then I took a little beginning summer break and me and my hubby started working on raising the kitchen cabinets and adding open lower cabinets. So our kitchen currently looks like this, nope I didn't even straighten it up for you, no glamour shots here… but I can see how much I'm going to love the finished product already!
I removed all of the dishes from the cabinets and all of our everyday dishes are temporarily housed in the butler's pantry, everything else is laid out on the dining room table… it looks like I'm getting ready to have a rummage sale in there and I'll have to wash everything that's there when I'm done due to all of the dust I'm creating…
The cabinet below was a H-U-G-E pain in the arse for my hubby to build, but I think he did a fabulous job and I love the fact that it is one large cabinet rather than 3 individual pieces, it will give us so much flexibility for the space. He also added an electrical outlet in it in case we want to put a microwave or something else in the cabinet.
As much as I know my hubby would love to be done with the cabinet making part of this project he still has a rather simple one to add to the top of the stove and refrigerator space. We also added a wire from the under cabinet lights to this area so that it can be lit at the same time. This will be the only area in the kitchen cabinets where I will have decorative items, all of the other open cabinetry is for everyday dishes, glasses etc.
We also changed our mind on the range hood and decided to install this hood instead of a custom wood surround.
I think that the black of the hood in combination with our black island cabinets will be a very nice contrast to all of the white cabinets. So we had to remove some drywall, install a 2×4 support and shift the electrical over so that it will be hidden by the hood as well. When we were done we just patched the area with 1/2" plywood and I will patch and prime the entire area in preparation for the tile. Yet another scope creep item, we will be installing the tile backsplash all of the way up to the ceiling behind the hood… did we need to do this, no, but will it look better if we do… yes, I think it will look stunning!
So I'm slowly working on adding trim to the sides of the cabinets, caulking, filling and priming, in general I'm having no fun, but it's better than being outside in the hot muggy hotness that has decided to reside over the Louisville area for weeks!!!
I will (eventually) be painting the interiors of the open cabinets the same color as cabinets themselves, but I'm pretty sure I will be using paper or fabric as a removable colorful backdrop in them.
Just so you can see a comparison to where we were before we started this project and today, it's getting there slowly but surely!
What you can't feel is the sense of height that raising the cabinets to the ceiling gives you when you walk into the kitchen, it just seems so much more grand for some reason, I love it! Obviously getting to the top shelves will require a step stool, but I am planning on storing all of my china and rarely used dishes and cookware on the highest shelves so that I will rarely have to get anything down from there. Well I guess I have stalled long enough from working on the kitchen… better get back to work and get this project done!
Until next time!