Hi all! I know it's been a while, but I'm SLOWLY coming back to to life and getting in the groove of posting again! I wanted to share with you our Family Room fireplace wall, which is my first real project in our new home. I'm feeling like I'm in a little bit of a design slump and I have had a hard time deciding where to start (really there are so many things to do). This is my first big out of town move and it has been hard missing my friends and family… But I'm trying to pull myself up and I am starting with a very small space in our family room, the fireplace wall. It is the only space I had ANY idea of what I want to do so I started to tackle it, hoping it would help me get motivated with the rest of the room…
The room itself is pretty long (15Wx24L) with the obvious focal point being the fireplace and TV area.
While I love the traditional molding and the brick work on the fireplace, the brass has got to go!
I painted the wall Raccoon Fur (Benjamin Moore, Matte finish), it is a very dark gray / light black color. I have used the color before in a half bath so I knew I would love it. I taped off the edges/corners with Frog tape and then applied 2 coats of paint, a quick and easy change.
To paint the brass I first taped off and draped plastic over the glass.
I then spray painted the brass areas with Rustoleum's High Heat spray paint, applying 3 light coats. After each coat I opened the windows and turned on the fan as this spray was rather smelly, but it did a fabulous job coating the brass. Seriously, if you can tape and spray you can get this done in 10 minutes easy…
Doesn't that look so much better already?
After that I did get a little "stuck"… I was thinking about applying a mortar wash to the brick, then maybe just white washing it, but I finally decided that I wanted to have a more clean classic look to it so I decided to just paint it the same white as the mantle. What I thought would be a quick paint job was not, you see I had forgotten how much of a pain it is to paint brick… lots of little nooks and crannies… I could have painted the whole room in the same amount of time it took me to paint the brick! By the way I did tape off the fireplace surround and cover it to protect it from paint splatter… believe me this is a must no matter how neat of a painter you may be. When it was all done though I really loved the clean look of the white brick and mantle.
As I was thinking about how I wanted to decorate the mantle I decided I would like some sort of horse art, as a nod to my new home here in beautiful Louisville, KY. I started my search on Etsy and soon found this FABULOUS horse photo by Julie Refer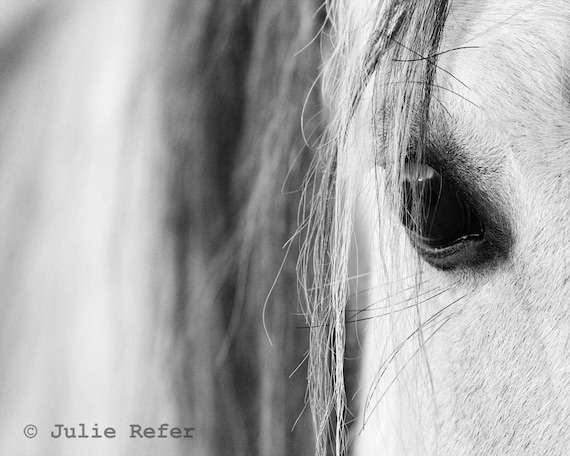 It was perfect! I contacted her and asked her mount it on a large canvas for me and now it is a beautiful part of our fireplace wall. (Please ignore the random paint samples on the wall to the right, I still have to decide on the wall color…)
Clearly I'm also decorating for Halloween…
A touch of silver against the dark gray backdrop really pops!
At the last minute I decided I want to "frame" this photo out, but not in the traditional sense… I have a wonderful stockpile of vintage gold leaf plaster frames and luckily I had one just the right size. I have absolutely no problems with the fact that the frame is "damaged" and I like the fact that I can combine old and the new…
So as you read above I am still working on narrowing down my paint color for the rest of the room, but first I have to paint the ceiling. It's currently painted gold and it is making my color choices look really weird. Hopefully I can wrap this project up in a couple of weeks and share the finished room with you!
As always thanks for stopping by and I hope you are enjoying some nice Fall weather!
I'd love to hear your thoughts on this makeover so if you'd like please leave me a comment below!
Until next time…
Linking to these parties:
Redoux Interiors